Harbor channel
The trestle wharf measures 300(W) x 460(L) x 8.5(D) meters capable of effectively reducing waves and enhancing stability.
The wharf area is equipped with 7 shore power facilities to coordinate with 5 platform vessels (2 of them measuring 12 x 36 meters each, and 3 of them measuring 12 x 42 meters each). Apart from berthing the port company's self-owned vessels, it also provides berthing for official vessels and pilot boats.
It is also equipped with fueling and water supplying berths to supply fuel oil and water for harbor vessels.
Overview of the Operating ships
Type
Tug boat
Operating ships
Decontam
HP
5000HP
4000HP
2400HP
1600HP
1300HP
940HP
1500HP
Function
Tugboat and fireboat
Tugboat and fireboat
Tugboat and scavenger vessel
Tugboat
Pilot boat
Probe and resupplying vessel
Ship specializing in decontaminating contaminants
Quantity
3
4
3
0
1
2
1
Total
14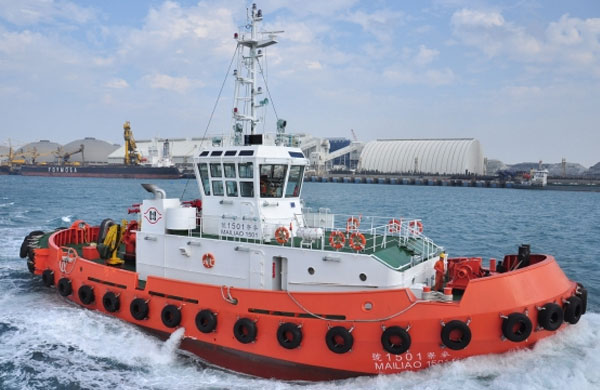 5000HP tug boat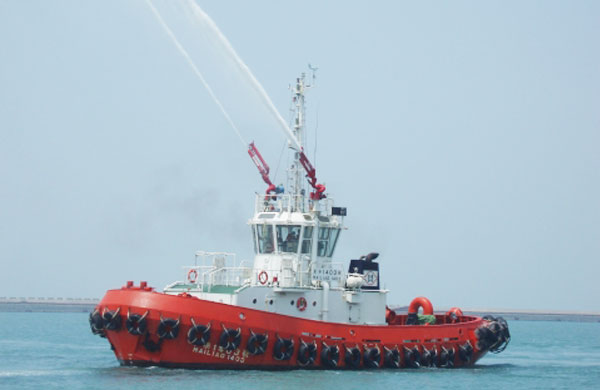 4000HP tug boat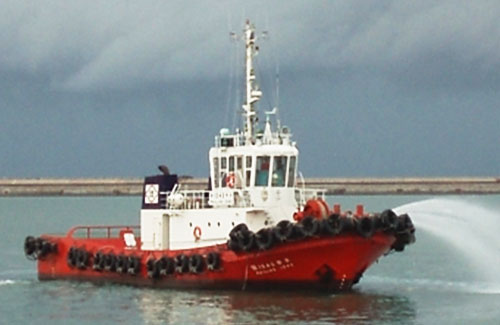 2400HP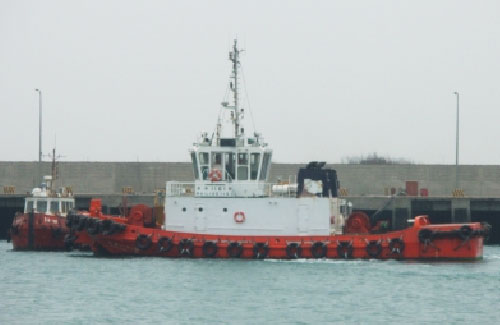 1600HP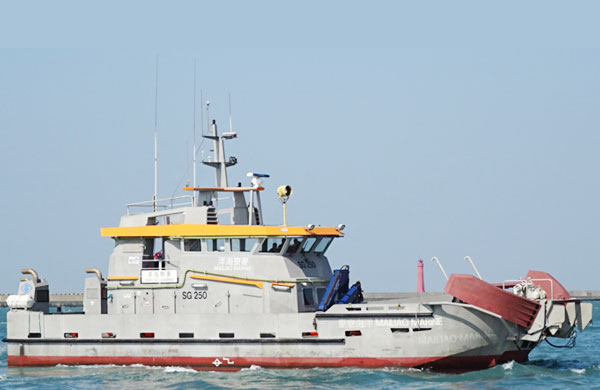 Ships specializing in decontaminating open waters (the Mailiao Ocean)
Offshore professional scavenger vessel
The "Mailiao Ocean" is Taiwan's first scavenger vessel manufactured by French (ECOCEANE) Shipyard and was delivered in November 2015. With the entire vessel constructed in aluminum alloy, it is lighter than conventional steel vessels and has the characteristics of spark-free when collided and is much safer. It adopts a patented water tunneling system technology to suck the floating oil from the sea into the hull, and directly separates the oil and water physically to replace the traditional sorbents. The vessel can be coordinated with the EPD's call to assist in handling marine pollution incidents.
Decontamination Principle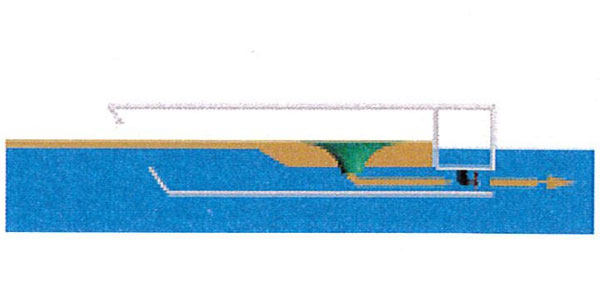 The hull is designed with a water tunnel to allow direct flowing of oil and water into the vessel automatically. It is capable of collecting and recovering the oil with a purity of up to 99% without emulsifying phenomenon.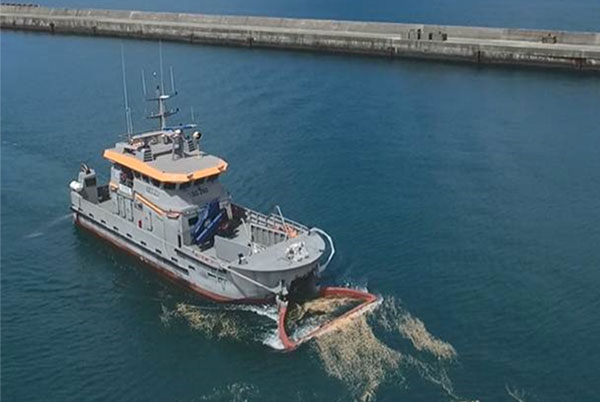 Decontamination Action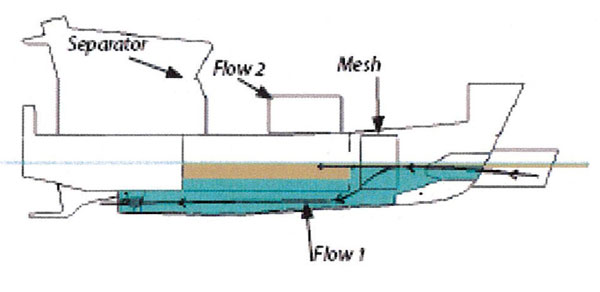 The turbine propulsion will allow the floating oil on ocean surface to flow into the hull, and the mesh filter bar in front of the storage tank will intercept the solid wastes. After the oil contaminant on ocean surface has flown into the hull:
*Flow direction 1: clean water will flow away from below.
*Flow direction 2: the floating oil on atop will flow into a recovery tank (storage volume of 150m3).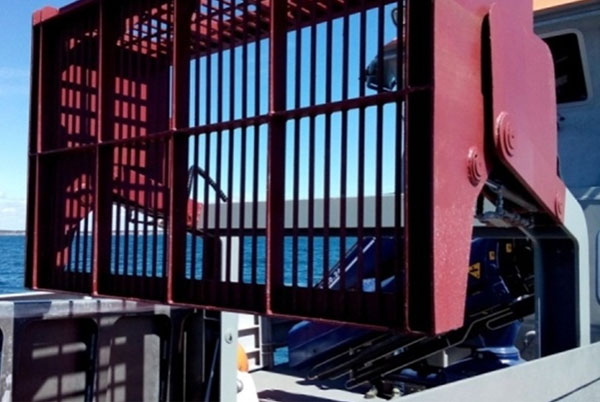 Floating Booms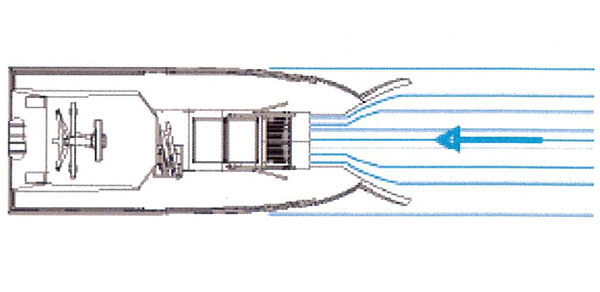 As the floating booms are able to swing freely with the waves, so the surface contaminant can be easily swept into the hull. The maximum recovery width is 6.5 meters.
*During operation, the cruising speed is up to 4 ~5 knots.
*The vessel is resistance to wind speed scale of 6.
*Hourly recyclability: 120m3.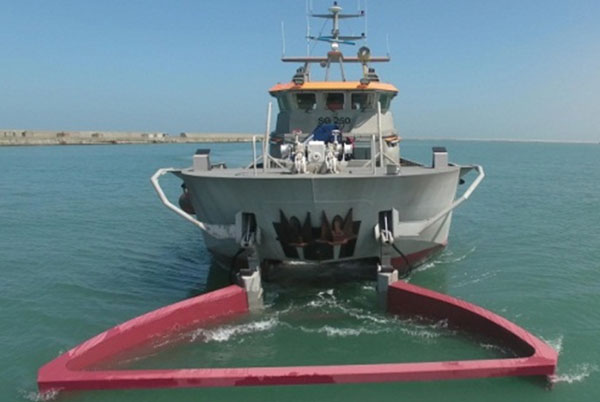 Oil Storage and Transportation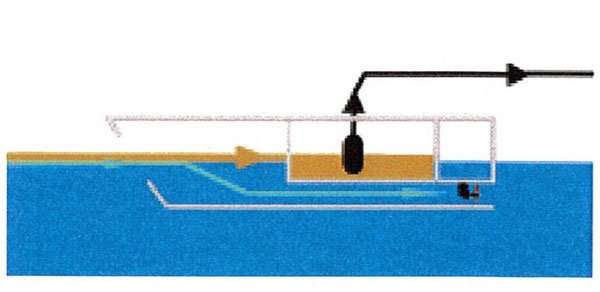 To enhance the continuous working efficiency of the scavenger vessel, the floating oil can be directly pumped to the tanker for storage without treatment after the floating oil has filled up the storage tank of the scavenger vessel.